SR-71 and YF-12A Flight Manuals
Available now is a reprint of the original Flight Manuals for both the SR-71 and the YF-12A. The were downgraded from Secret and declassified in 1990 under the Senior Crown Program. This edition of the SR-71A-1 was last revised in July of 1989 and is thus the most current available copy of the Flight Manual. The YF-12A was last revised 15 February 1971.
---
The SR-71 Flight Manual
Contents:
SR-71 Flight Manual Sample Page:
---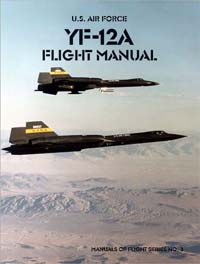 YF-12A Flight Manual
The original author of this manual was James D. Eastham, Lockheed Test Pilot and the first person to fly the YF-12A on August 07, 1963
Contents: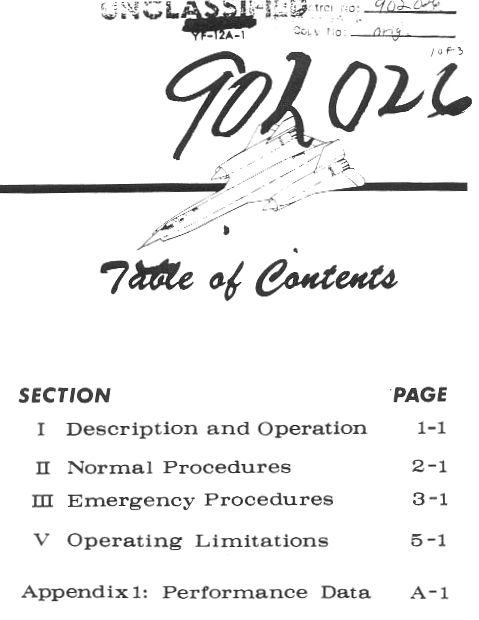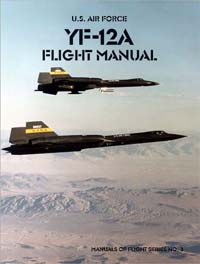 Sample YF-12A Page: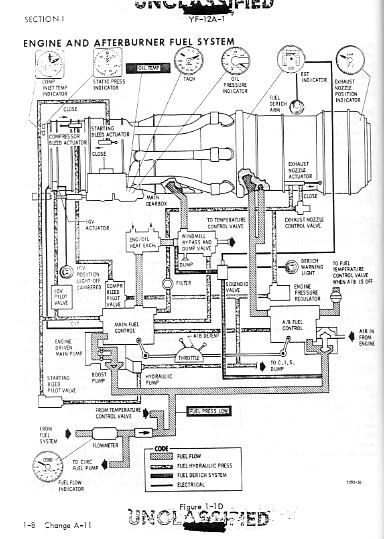 These Government reprint copies range in price from $99.95 for the SR-71 to $49.95 for the YF-12A Manual. The SR-71 Manual is over two inches thick and contains a wealth of information about the characteristics and limitations of the aircraft. There are 1,052 pages less those Sensor pages that is still considered classified information. These manuals are also called the Pilot's Flight Manual or the -1. The reprint quality is excellent and I think for the money they are a great investment as a reference. The first reprints of the SR-71 Flight Manuals were sold on eBay some years back for $400-$500. This new edition of the SR-71 Flight Manual contains 40 additional pages that were previously classified in the older reprint.
The SR-71 and the YF-12A Flight Manual Reprints are available for purchase from:
Ross & Perry, Inc.
Publishers
at their web site URL:
http://www.rossperry.com/home.asp
Or order directly from:
Ross & Perry Inc.,
Book Publishers
3 South Haddon Ave
Suite 4
Haddonfield NJ 08033-1882
856-427-6135 Office
856-427-6136 New Jersey Office Fax / 202-675-6400 Washington Office Fax
Email: info@RossPerry.com
---
Other Flight Manuals Available:
---
CREDIT:
Permission to post information and images for this web page has been granted by written permission from Ross & Perry, Inc., Publishers on February 13, 2003. Web page formatting and design by Leland Haynes, Webmaster, SR-71 Blackbirds. Images and data on this web page may not be reproduced in any format including electronic retrieval systems. Portions of these manuals are copyrighted by Ross & Perry, Inc, Publishers and is protected under the Berne Convention. "SR-71 Blackbirds" web site is not affiliated with Ross & Perry, Inc, Publisher.
Page #150 of The SR-71 Blackbirds