"U OUGHTA"
A Biography
By William M. (Bill) Gornik, CMSgt, USAF (Ret)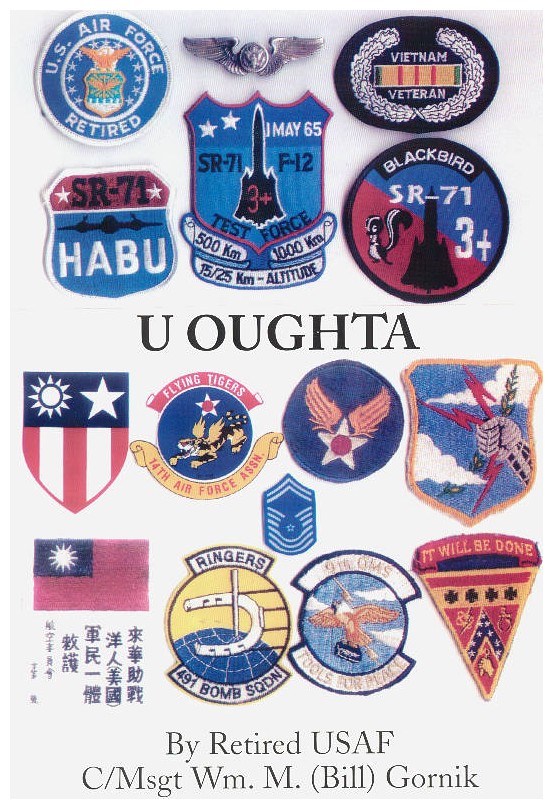 Introduction by the Author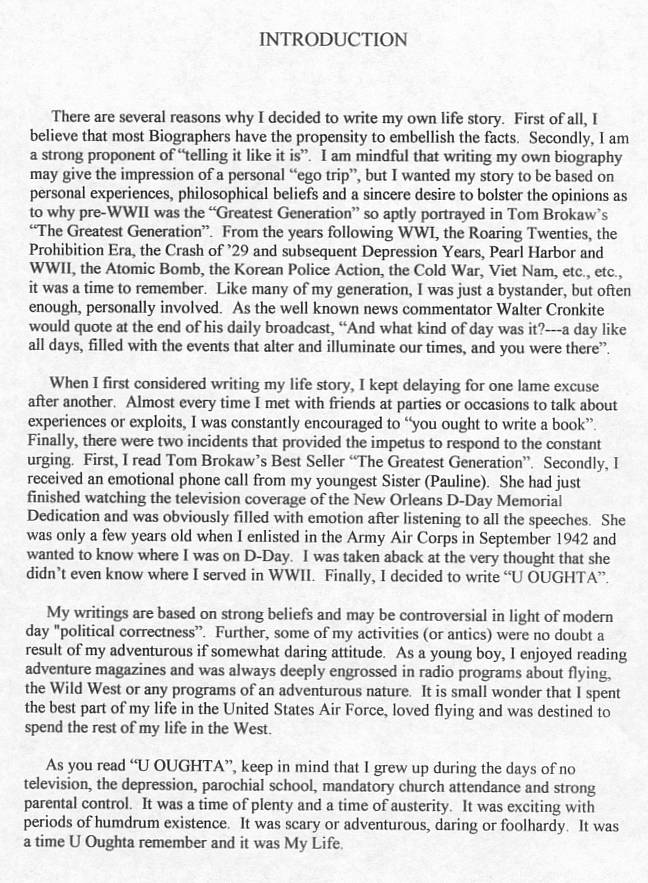 About The Author and
Comments By Others About This Book:

---
"U Oughta" is Dedicated :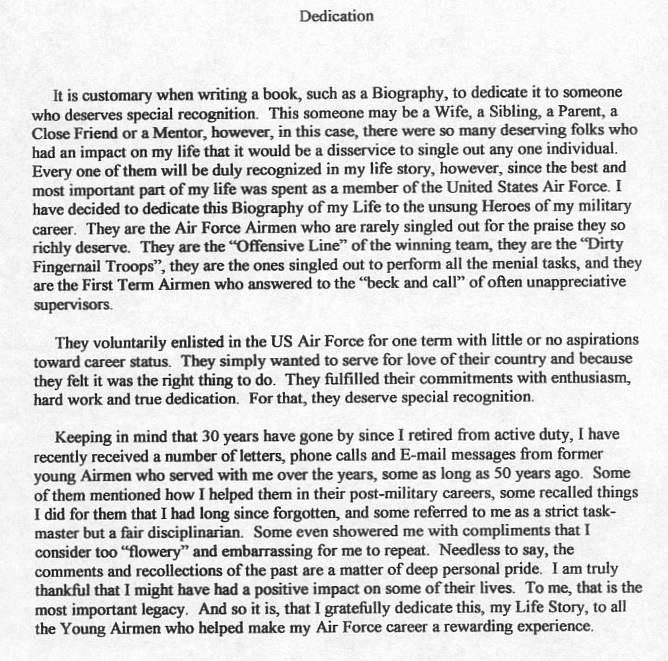 Table of Contents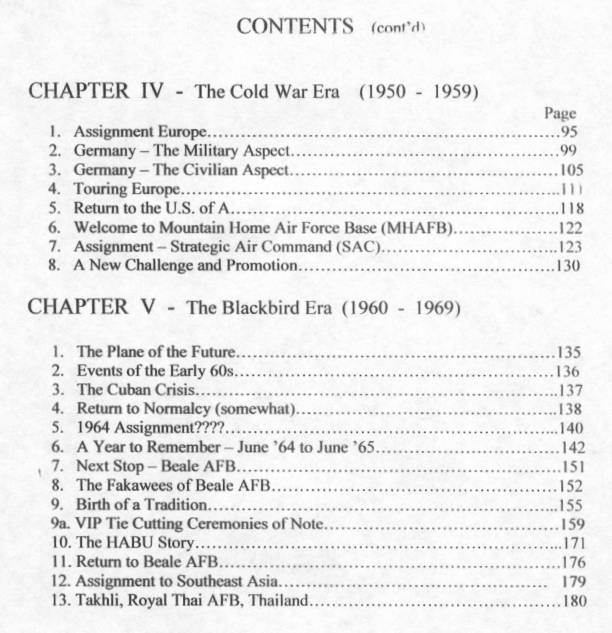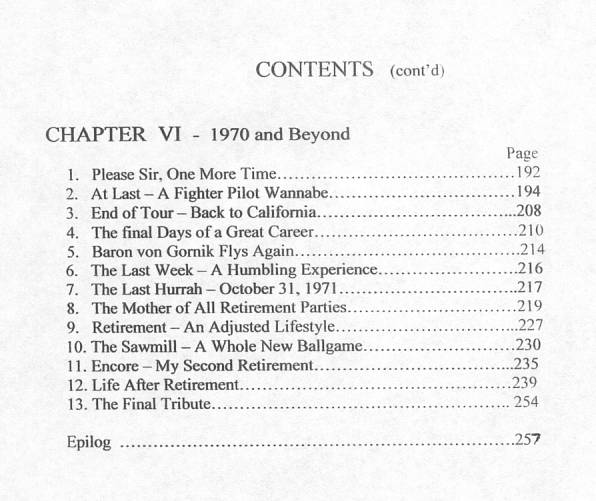 Epilog:
---
How to Order Bill Gornik's Book
"U Oughta"
I have recently completed writing my life story in a book titled "U OUGHTA". I selected this title because over the years, many of you suggested "You ought to write a book about your experiences". The result is a book 9 by 11 inches and 1 inch thick with 257 pages including over 100 photos (B&W and color). The dust cover is very unique and includes 3 very complimentary endorsements (one by a retired USAF Lt/Gen and one by a former Boise State University President). I had 200 copies printed and hard bound at a substantial cost that necessitated setting a $37.50 price per book plus $3.00 S&H. If you desire a copy, please send a check or money order to Bill Gornik, 3398 West Montrose Lane, Meridian, ID, 83642. Your autographed copy will be in the mail the next day. Thank you and God Bless America. Bill G
Editors Note: Bill can be emailed for questions concerning his new book at: gornik3398@cs.com
---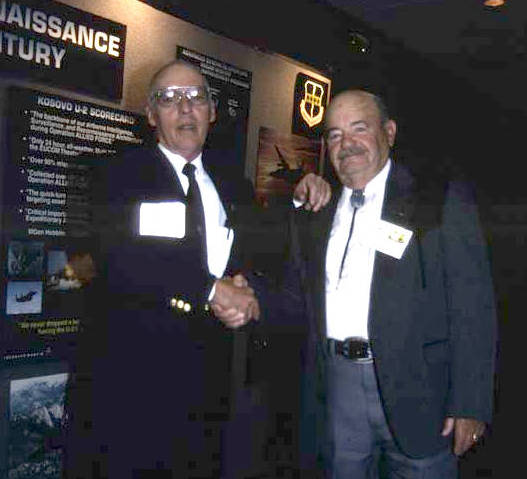 Leland Haynes, Author of the "SR-71 Blackbirds" Web site with Bill Gornik at the 2001 Blackbird Reunion
---
"U OUGHTA" Book Reviews
Having read Bill Gornik's new book on his life story, I can't help but admire his many accomplishments while serving in the U.S. Military and the private sector. His book is an insight into a young man's dream of making his strong beliefs and personal convictions the cornerstone of a rewarding life. Of course Bill was an aircraft maintenance superintendent when I knew him in 1969. Reading his life story, to me, was a terrific insight into managing people and accomplishing whatever task was at hand. From his humble beginnings in Steelton, Pennsylvania, he takes the reader through the Roaring Twenties; his military service in China Burma Theater and of course his experiences with the very beginning of the YF12A and SR-71 Test Force at Edwards AFB in California. He was the son of a Slovenian (then called Austria) immigrant parents; Louis and Catherine Gornik. They provided the groundwork, respect and education that would be the impetus of his character, good nature and intense patriotic devotion to his country. This book is a personal story. It is a book of the trials and tribulations of growing up; setting goals; meeting a wonderful woman and dedicating his life to serving the United States as a military leader for 28 years. I think you will find out this is one book you will not put down. He relates the historic beginning of the blackbird "Tie Cutting Ceremony" at Kadena AB, Okinawa in 1968. I am not so sure I would have the intestinal fortitude to cut off the tie of a United States Senator (Barry Goldwater) or that of a Four Star General (SAC Commander in Chief; Bruce K. Holloway). But Bill Gornik did so and in good nature. He also formulated the famous "Fakawee's" at Beale AFB. I would highly recommend this book to any Non-Commissioned Officers (NCO's) in a position of authority. Bill Gornik has garnered the trust, respect and admiration of all those who served under his leadership. What else could a man want? Lastly, in April of 2002, Bill Gornik was inducted into the "Blackbird Laurels" in Lancaster, California. Of the 22 inductees, Bill was the only enlisted man selected. True to form, he accepted the award on behalf of those enlisted personnel that served with him during the Blackbird years. Thanks Bill for the many years of dedicated service to the United States and also to the values we hold dearly.
Leland Haynes, Webmaster, SR-71 Blackbirds
Endorsements:
When I first joined the SR-71 program in late 1965, Bill Gornik was already a legend in the Blackbird's. He was a fantastic NCO in our maintenance structure and was a real leader of men. His rapport with every member of the Wing was without precedence. He was admired and respected by all and I am proud to call him a friend.
Patrick Halloran, Maj Gen (Ret) USAF
Commander 9th SRW 1973-75
---
Bill Gornik is one of the reasons the Blackbird Program was such a tremendous success. His energy and enthusiasm were contagious and inspired all the men and women of the 9th SRW. It was a great honor when he cut my tie at Kadena in 1969.

Tom Estes, Col. USAF (Ret) 9th SRW
1967-1976
---
Chief Gornik was a unique leader that knew when to turn it on, work hard and at the right time to play hard. The morale was always high in his organization because of his leadership. He also knew how to fly quite well and to perform a supersonic slow roll!!
Harold E. Confer Brig. General USAF, (Ret.)
9th SRW 1965 to 1972
---
Credits: All material and excerpts from the book "U OUGHTA" contained on this web page is the copyrighted property of William M. Gornik. Copyrighted November 06, 2003. All Rights reserved. Data may not be reproduced in any format including electronic retrieval. Permission by William M. Gornik has been granted to post his copyrighted material to "The SR-71 Blackbirds" web site on November 06, 2003
Page #158 of "The SR-71 Blackbirds"