Jean Conrad (Conny) Seagroves
SR-71 Reconnaissance Systems Operator
Photos & Remembrances
8 September, 1931 to 25 August, 2002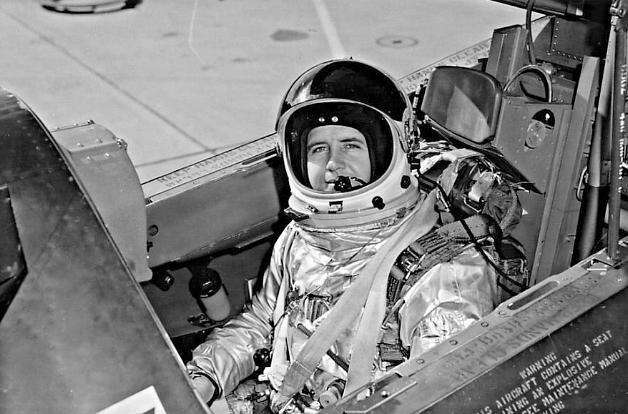 Qualification #144 RSO, Capt Seagroves, Jean C. "Conrad" 10 August 1966
---
Jenny (Seagroves) Dunn, daughter of Colonel Seagroves has submitted the following photos from her father's scrapbook. She has been kind enough to share them and her thoughts with the Blackbird Community. Colonel Seagroves qualified as an SR-71 Reconnaissance System Operator on 10 August 1966 making him one of the first RSO's to qualify. In this collection there are photos of the first cadre of commanders, crewmembers and maintenance personnel assigned to the Blackbirds. Bear in mind that photos of any events during the early days of highly classified activities were extremely rare and in most cases consisted of Polaroid photos which did not need to be sent out for film developing. During my tenure with the Blackbirds from 1969-1974, if you were caught with a camera, you could most assuredly pack your bags for another assignment. Most of the SR-71 Crewmember photos contained in this collection, however, are professional USAF photos. Included at the bottom of this page is Colonel Seagroves obituary with additional comments by friends of Conny's. Thank you, Jenny for sharing your treasures with us.
Leland Haynes, Webmaster, SR-71 Blackbirds
Jenny's Tribute to her dad:
My whole life I heard my Dad speak volumes without saying a word. My Dad was a whistler. He had all different whistles that expressed his emotions. I don't know how to make the same sounds, but everyone who knew Dad, knows how they sound. It is a style of whistling that is from the older generation. My generation would probably call it "old school" whistling.

There was the commanding whistle of warning that we heard as kids that could stop you in your tracks. This was the type of whistle that could stop a kid from darting into traffic. If we thought that we could stomp away from dad while muttering under our breath, being a snotty kid and you heard that whistle of authority call you back, you knew that you had pushed things a little too far. If we needed to be rounded up in the evening, there was the two finger whistle that you could hear a few blocks away that we knew was our Dad (other families had their own sound) There was the exasperated whistle of trying to keep things in check. There was the whistle of exclamation. I know that even sometimes his whistle could be annoying (I looked at Carol and smiled. It's an inside joke).

One of the favorites that us kids always have a bit of fun with had been the whistle that he did to relax if he was feeling stressed while navigating his car. Jeff can impersonate this one perfectly (I sang it: who who whooo). My Dad could hold his hand out of the car window and get the wind to blow just right on his class ring and even make it whistle.

But what I heard the most often was when my Dad was feeling content or upbeat. He would whistle the most beautiful vibrato melodies. I always heard these when we held hands and walked. This is what I really miss already and makes me cry, holding hands with Dad and hearing him whistle. Those times will always be my most treasured memories. That is where I always connected with the special comfort that only can come from a loving father. Sometimes I hear that same beautiful style of whistling. It's usually about 2 rows over in a grocery store. I know that if were to go look, it would be coming from an older gentleman with silver hair like my Dad's.
Jenny

Sun, 1 Sep 2002 03:00 Jenny (Seagroves) Dunn Writes: Below is my Dad's obituary. I will treasure what everyone stood to say at Dad's service. It was overwhelming in every good way and the military honors were incredible (One of my Dad's grandsons attended in his Marine uniform). The unity of Military comrades is a soothing ointment for broken hearts. You, the protectors of our country are the essence of strength and protection.

Sincerely,
Jenny (Seagroves) Dunn
3902 Arlington St.
Fort Myers, FL 33901
Email: dunnquest@earthlink.net
---

Colonel Jean Conrad (Conny) Seagroves, USAF (Ret.)
September 8, 1931 to August 25, 2002


Colonel Seagroves was born on September 8, 1931 in Macon, GA. He attended St. George High School in Evanston, IL and St. Mary's College in Minnesota before entering the Naval Academy in 1950. After graduation, he earned Air Force navigator wings and flew for eleven years in Strategic Air Command, receiving two spot promotions. He first flew as a navigator-bombardier on B-47s and B-52s. In 1966 he became one of the first operational flight testers and Reconnaissance System Operators (RSO's) on the SR-71 Blackbird aircraft, flying at Mach 3 + and at altitudes over 85,000 feet at Edwards and Beale AFB's in California.

While attending Air Command and Staff School at Maxwell AFB, AL he received an MBA from George Washington University. During the Vietnam War he was a forward air controller and then a Planner at Headquarter 7th Air Force in Saigon. His younger brother, 1/Lt Michael Seagroves, an Air Force pilot flying psy-ops missions in Vietnam, was shot down in 1969. Declared Missing in Action, his remains were recovered and returned in 1974.

Lt. Col Seagroves went to Washington for a special assignment and then worked at Hqs. USAF in Research and Development. After promotion to Colonel, he took command of the 1st Mobile Communications Group at Clark Air Base, Philippines, and then served as Deputy for Plans and Programs at Hqs.13th Air Force, also at Clark. He next commanded a NATO base in the Netherlands. His military awards include the Legion of Merit, Distinguished Flying Cross, Bronze Star, Air Force Commendation Medal, Presidential Unit Citation and Meritorious Service Medal.

After retiring in 1982, he and his wife, Carol, settled in Albuquerque, NM where he worked in sales for Motorola. In 1994 they moved to Brandon, FL to be near their grandchildren.

He is survived by his wife, Carol; his sons, Kenneth Seagroves, Kevin Seagroves; his daughters, Julie Pietila, Jeanelle Harrison, Jennifer Dunn; his stepchildren, Scott Schekman, Ronald Schekman, Lori Schekman; 18 grandchildren and four great-grandchildren, his first wife, Honey and his brother Rev. Dr. Richard Seagraves.

Colonel Seagroves was buried with full military honors at Florida National Cemetery. Four of his '54 classmates, all Air Force retired, attended the services. Memorial donations may be made to the Naval Academy Foundation, Class of 1954 Fund, 291 Wood Ave., Annapolis, MD 21402.

---
Sun, 1 Sep 2002 10:24 Lt Col (Ret) Mort Jarvis Writes:
Col (Ret) Conrad (Conny) Seagroves passed away on August 25th. Conny was with the original cadre of SR-71 flight crews. He was an RSO crewed with Col. (Ret) Pete Collins crew number #04. Memorial services were held on Thursday, August 29th with burial in Florida National cemetery. The family request that any donations/memorials be made to U.S. Naval Academy foundation, Class of 1954, in memory of J. C. Seagroves, 291 Wood Road, Beach Hall, Annapolis, MD 21402-5001.
I knew Conny real well and kept in contact with him through the years. My original crew number was #06 and flew with MGen (Ret) Pat Halloran and later with Col (Ret) Buddy Brown.

Lt Col (Ret) Mort Jarvis
Email: habumj@pacbell.net
---
Mike Stroop USNA Company 01 Writes: My best memory of my fellow sandblower are of graduation day. Conny went Air Force and I went Navy. My parents were there for our graduation. Conny and I thought it might be fun if I borrowed one of his Air Force uniforms so that when we all went out to meet our parents my dad would think that I too had gone Sock Bag Blue. We decided not to do it since my father was fifty years old at the time and we were not sure that such an old man could stand the shock! Can you imagine when we thought fifty was OLD.

Rest in peace Conny. I'll miss you but always treasure the memories.
Mike Stroop USNA
---
08/27/02 Jack Keating, USNA Company 20 comments:
I believe I met Conny Seagroves once. On that occasion his super, "Acta non Verba" approach to our security problem, made me proud to be a classmate. At Beale AFB in 1966 my team had a lot of SR-71 related installation work to do in a very short time and in a very spooky way. Conny eliminated a big union worker squawk which could have resulted in a several month delay getting union electricians National Security Clearances. We had asked his Base boss to solve it. It was given to Conny for action. He and I met for a 5 minute brain drain after which he Rogered and left. Next morning a new concrete wall blocked off any access to my assigned space without the proper security badge. He did leave one floor level block missing so that the Union guys could stuff thru our cables. That kept the union happy. It was guys like Conny Seagroves in this country who made it possible to do an impossible 6 year project in 2 years and on budget. FFP. Thanks Conny.
Jack Keating: jekeating@msn.com
---
To Carol, family, and friends of Col. J.C. (Conny) Seagroves, USAF (Ret.)

From: Col. Mike Nassr, USAF, Class of 1954:
Conny and I became fast friends after entering the Naval Academy in 1950. We did many things together during those four years, including double-dating and writing sports for our midshipman magazine. In our final year I ran for class office and Conny was my campaign manager. We fell four votes short, but we had a lot of fun in the process. We both chose the Air Force after graduation and both made the Air Force our careers. In the early years we were together in Texas for flying school and in Alabama for Squadron Officer's School. I recall his naming his first-born Seagroves after another classmate of ours, 1/Lt Kenneth J. Ball, USMC, who had been killed in a parachuting accident. In following years we kept in touch even when we were continents apart. This included when he was in Vietnam and his brother was killed there, when he was Commander of an Air Force Mobile Communications unit in the Philippines, and when he was a NATO base commander in the Netherlands. At 5'4" tall Conny was the shortest man in our class. In what is now a well known story, Conny failed the physical when he reported to the Academy because he was too short. A friendly and compassionate medic told him to come back for re-measurement early the next morning, but to stay on his mattress and be carried there. The rest -- as they say -- is now history. Although no-one in our class was shorter than Conny, no-one in our class flew higher or faster than he did. As a flight test officer and navigator-bombardier on the supersonic SR-71 Blackbird reconnaissance aircraft, he flew at over three times the speed of sound and at altitudes over 85,000 feet. His successful Air Force career is a matter of record and it is a reflection of his abilities and his love for his country. But the most enduring memory of Conny is as a kind and caring man - as a father, as a grandfather, and as a friend. His warm and beaming smile was always there and lit up rooms. Conny flew higher and faster than any of his classmates while on this earth and he is now in a much higher place. We ask you to save some choice places near you for your family and friends who honor you today, Conny -- so we can join you when we hopefully reach our heavenly rewards.

Col. Mike Nassr, USAF, Class of 1954
Photo Archive
(Click on thumbnail photo to enlarge)
cs001.jpg
43.84 Kb
First & 99th
SRS Beale AFB, CA

cs002.jpg
195.45 Kb
9th SRW Commander,
Hayes & Crewmembers-
circa 1969

cs003.jpg
55.96 Kb
Spalding, Jenny, Conny, Honey Seagroves

cs006.jpg
60.54 Kb
Crew 04
Pete Collins, Pilot,
Conny Seagroves, RSO

cs008.jpg
43.60 Kb
Confer, Collins,
Johnson,Seagroves,Unk.

cs011.jpg
39.36 Kb
Gray Sowers-sitting,
Harlan Hains


cs013.jpg
67.92 Kb
Cec Braeden,
Roy St. Martin
(plaid shirt)


cs016.jpg
47.68 Kb
Dewain Vick
(sitting),
Butch Sheffield

cs017.jpg
40.55 Kb
(L-R) Ben Whittaker,
Bob Locke-facing camera,
Nick Meyer, Unk,
---Hewitt

cs020.jpg
41.02 Kb
Bobby Campbell,
Abe Kardong, unk

cs022.jpg
33.99 Kb
Bob Roetcisoender,
Larry Devall


cs024.jpg
49.50 Kb
Bob Locke,
Bryan McCallum,
Abe Kardong


cs025.jpg
43.17 Kb
(L-R) John Storrie,
unk,Bob Locke,Jerry Crew,
unk,Jon Kraus,Jim Watkins,
Keith Brandon,Larry Devall,
Bobby Campbell,Phil Loignon,
unk,unk,Charlie Daubs,
2 PSD Sgts.,Dave Dempster

cs027.jpg
46.98 Kb
Jim Watkins?, Bill Campbell,
Gen Bill Hayes

cs028.jpg
41.44 Kb
Chuck Ferrell,
Wayne Phillips

cs029.jpg
48.67 Kb
Betty-
Director of Ops
Secretary

cs031.jpg
63.93 Kb
Sgt. Gogilotti (sp?)
Flight Scheduler


cs033.jpg
106.11 Kb
(L-R)Don Walbrecht,Harlan Hain,Charlie Minter, Bill Hayes, unk.,Hal Confer,unk.,
Jack Kennon,unk.,unk.,
Tony Bevacqua,unk.,unk.,
Buddy Brown, Bob Spencer,(in suit,L)
John Carnochan,(suit,R)
John Boynton


cs034.jpg
26.93 Kb
Jenny congratulates
her dad on
promotion to Colonel


cs041.jpg
55.80 Kb
OL-8 (Det 1)
Crew Signatures(1)


cs042.jpg
46.57 Kb
OL-8 (Det 1)
Crew Signatures(2)


cs044.jpg
44.54 Kb
First Crew Chiefs
assigned to
the SR-71


cs053.jpg
54.09 Kb
John Carnochan,
Charlie Minter


cs054.jpg
41.08 Kb
Collins, Chatterley, Seagroves


cs055.jpg
46.18 Kb
Jean Conrad
(Conny) Seagroves,
SR-71 RSO


cs063.jpg
67.44 Kb
Clyde Shoemaker,
Larry Devall


cs065.jpg
68.72 Kb
John Carnochan,
Roy St.Martin


cs066.jpg
100.53 Kb
Charlie Daubs,
Bob Roetcisoender


cs076.jpg
90.17 Kb
(L-R) Butch Sheffield,
Gray Sowers


cs077.jpg
87.43 Kb
(L-R) Bob Spencer,
Keith Brandon


cs078.jpg
80.92 Kb
Roy St. Martin,
Charlie Minter

cs079.jpg
82.06 Kb
(L-R) Ed Payne,
Jerry O'Malley


cs080.jpg
70.76 Kb
Bill Kendrick,
Charlie Minter


cs082.jpg
47.89 Kb
Air Training Command
Mather AFB, CA 1956


cs086.jpg
60.42 Kb
10 Year Combat
Crew Duty
9th SRW


cs088.jpg
74.98 Kb
Honorary Royal
Prince of the
Arctic Realm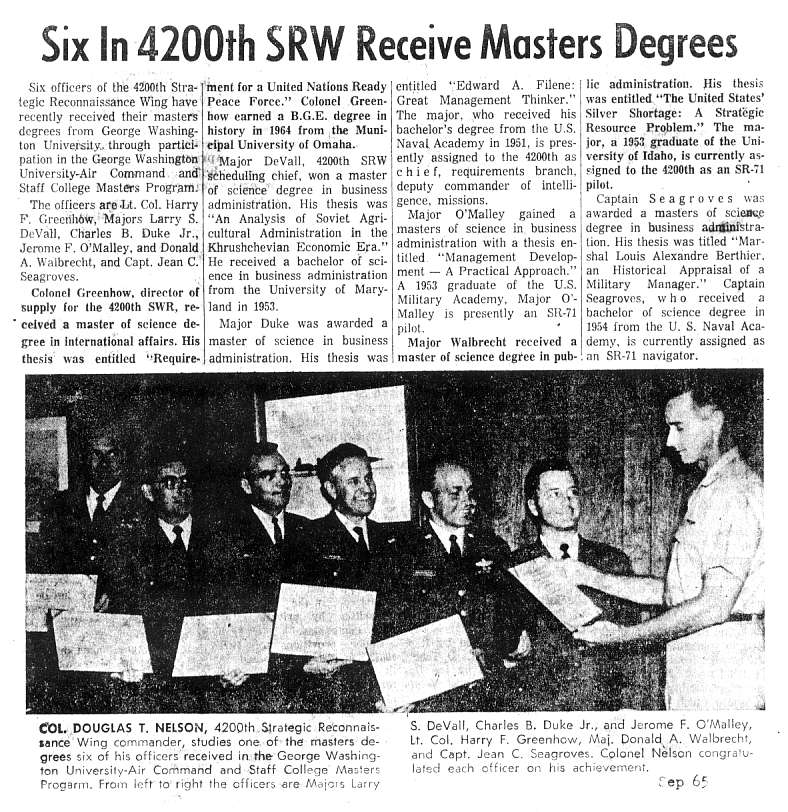 Jenny reads from the memoirs of Conny Seagroves:
We got some airplanes in 1966. Pete Collins and I flew together. He was the youngest and the most talented pilot in the squadron. He saved my life at least twice. We checked out and it was the best flying I'll ever experience. We wore Gemini Pressure Suits and flew well above 60,000 ft. Our missions covered the whole US. I'd wake my Dad up in Chicago around 11am (he worked nights). We would go from California to Florida in an hour and fifteen minutes. This airplane was the best and of course it cost more too. $25 million without equipment, with all options it ran $36 million. My jobs were that of a navigator, reconnaissance systems operator and copilot. I talked on the radio from after take off to just before landing. I adapted to the new challenge. We deployed to the Far East. I flew 2 combat sorties an became a member of the Red River Rats by flying over North Viet Nam Red River. We brought the first SR-71 back in 6 hours 30 minutes (all the way across the Pacific).

Then Dad goes on to write that he was given his choice of jobs and he volunteered for the combat zone…… TASS… Nakon Phanon or NKP…….Bien Hoa for another TASS…

Goes on to check out in OV-10…Forward Air Controller….Ho Chi Minh Trail….sniper scope then vector the B-26's or AIE's to them by smoke rocket or flare…..

successful search and rescue…..

more about Saigon…..

Lost his younger brother…the search and rescue for him……
Michael Anthony Seagroves
KIA Vietnam
You are not forgotten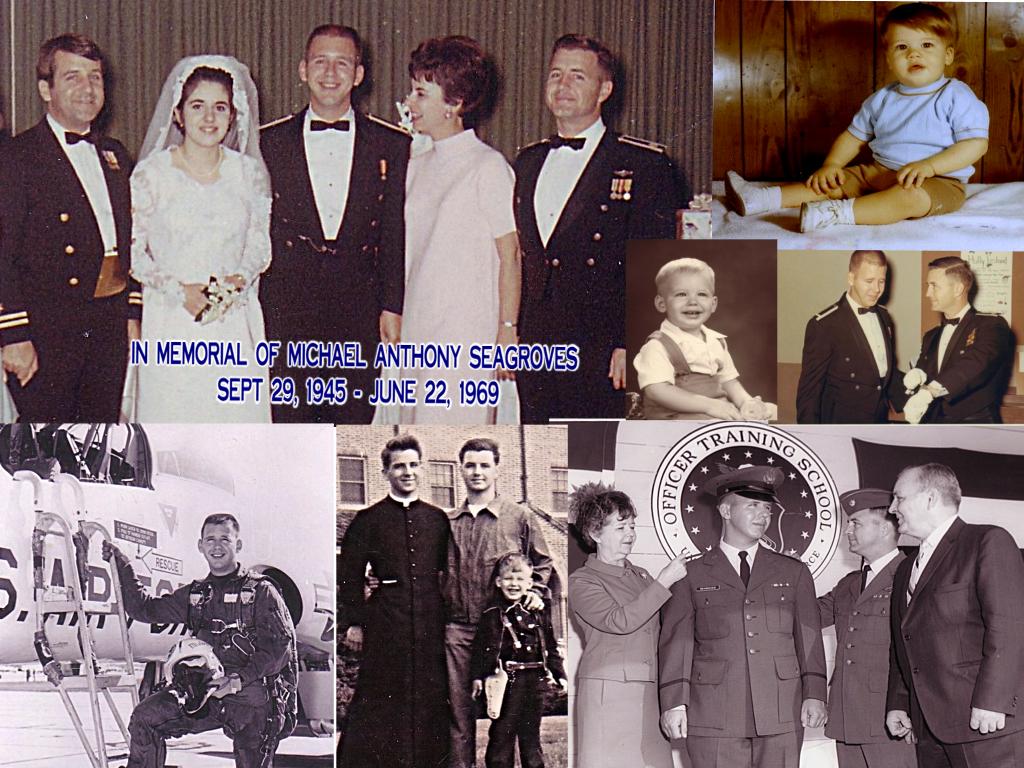 Michael Anthony Seagroves
Captain US Air Force

Date of loss: June 22, 1969
Country: South Vietnam
Status in 1973: Missing In Action
Remains recovered: April 1, 1974
Positive ID: June 19, 1974
Other Personnel in Incident: Eric Carl Engelhard, remains returned
Listed on Vietnam Veteran's Memorial, panel 22W row 114

Visit the Vietnam Virtual Wall for Michael Seagroves at this URL:
http://www.virtualwall.org/ds/SeagrovesMA01a.htm

MILITARY DATA
Service: Air Force (Reserve)
Grade at loss: O3
Rank: Captain (See Note below)
ID No: 318364213
MOS: 1041Z Pilot
LenSvc: Not recorded
Unit: 9TH SOS, 14TH SOW, 7TH AF
Note: O3 at loss. Promoted while in MIA status

CASUALTY DATA
Start Tour: Thursday, 05/08/1969
Change Status: Sunday, 06/22/1969
Missing to Died while Missing
Age at Loss: 23
Remains: Body Recovered
Location: Khanh Hoa, South Vietnam
Type: Hostile, Died While Missing
Reason: Air Loss, Crash - Land - Fixed Wing - Crew
---
Credits: All photos courtesy of the Seagroves family. Grateful credit is extended to Lt Col (Ret) Mort Jarvis for identifying those Blackbird crew members in the photos. Web page formatted by Leland Haynes, Webmaster, SR-71 Blackbirds.
Page #164 of the "SR-71 Blackbirds"