SR-71 Artists
The following artists renditions of the SR-71 Spyplane are reproduced here on the "SR-71 Blackbirds" webpages by written permission from the artists. These works of art have involved countless hours of devotion and labor by the artists involved. The artists have allowed me to share them with you and the Internet community provided you do not reproduce or copy these images. These images may not be used for financial gain or posting to any other internet site without prior express written approval of the artist. If you wish to purchase a copy of the artists print, go to their website. Please respect the work these artists have devoted to their prints. they are not public domain.
Leland Haynes, Webmaster, SR-71 Blackbirds

"SR-71 Blackbird"
Painting by Edwin Markham
To order: Call 478-994-5260 or go to the email link above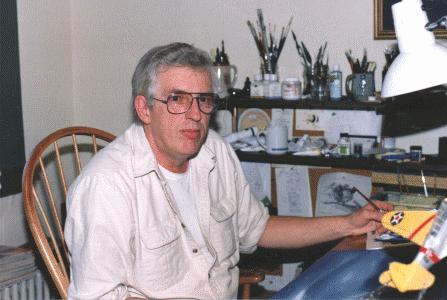 Edwin Markham was born on September 21, 1943 in Great Barrington, Mass. where he resided until he enlisted in the navy on October 1960. Midpoint in his naval career, he became an Illustrator/Draftsman, and remained in that position until his retirement on June 1980. During his years in the navy, he gained much experience in all facets of graphics and art: producing technical illustrations, visual training aids, briefings, cartoons and ultimately magazine layouts and illustrations. His last tour of duty was with the Chief of Navy Information serving as layout artist for various internal publications, and as contributing artist for "ALL HANDS MAGAZINE." His interest in maritime and aviation art stems from childhood on. During his naval career, he had the opportunity to observe both the nautical and aviation world first hand, having served aboard several ships, and also working with many aviation squadrons. When creating his illustrations, he would strive to obtain a high degree of realism, and at the same time, capture on canvas, that special moment the pilot or crew is experiencing, and relate that rapture to his audience. Since his retirement from the navy, he has freelanced his art, and produced many limited edition black and white prints of historical interest and aviation subjects. His military illustrations have appeared in ALL HANDS MAGAZINE (cover and color features), and AMERICAN LEGION magazines. The National Museum of Naval Aviation, Pensacola, FL recently accepted one of his paintings into their collection. Titled "Home to Roost", the 22" X 28" painting of the airship USS Macon will be on display in the Lighter Than Air section of the museum.

Here are two lithographs commemorating the record setting final flight of Blackbird #972 on March 6, 1990. Originally available as a special limited edition of 350, each individually signed by the last flight crew, Lt. Col, Ed Yeilding and the late Lt. Col. J. T. Vida.
"Last Hot Flight"
Airbrushed by Dru Blair
"The Final Ascent"
Airbrushed by Dru Blair
Dru Blair can be reached by e-mail at: dru@drublair.com
Visit Dru's Website at: http://www.drublair.com/
To Order Call:1-800-828-3634
Dru Blair
Aviation and Star Trek Air Brush Artist
Dru Blair was born in Newbern, NC., September 7. Growing up in Columbia, SC, his ambitions originally were directed toward a career in medicine. However, during his undergraduate studies at Furman University in Greenville, SC, he discovered an artistic ability. He switched majors his senior year and graduated in 1981 with a BA. degree in art. He later found employment in Myrtle Beach, SC. as an airbrush artist painting shirts. He continued his education at the University of South Carolina in Columbia earning a Masters Degree in 1984. He worked in Atlanta from 1985-1987 transitioning to commercial illustration.
In 1988 he won the National Airbrush Excellence Award, which ushered in a wave of commercial opportunities. The following year he produced his first aviation painting, "Power" which became the first of three Air Force Magazine covers and remains the number one selling aviation print in the world . Other aviation paintings followed the advent of his own publishing company, Blair Art Studios Inc., and more recently, the Blair School of Art in Raleigh, NC.
Dru Blair is an Air Force Association Life Member (1989), Honorary Member of the United States Air Force (since 1991), Army Aviation Association of America Life Member (since 1993) , member of the North Carolina Association of Designers and Illustrators (since 1989), member of the Air Force Art Program (since 1991), member of the Graphic Artists Guild (since 1993), Artist Fellow member of the American Society of Aviation Artists (since 1994), and board member of the International Airbrush Association. He has been featured in television interviews and on dozens of magazine covers. His paintings can be found in hundreds of magazine and book publications. Commercial projects have included popular themes such as the Budweiser Bullfrogs . He has produced a half dozen instructional videos on airbrush techniques and is a featured lecturer at the World Airbrush Exposition. In march he was the Guest of Honor at the International Airbrush Forum held in Germany which drew over 10,000 artists from around the world. He was the official artist for Star Trek: Voyager book covers, as well as several of the other Star Trek licensees. Dru currently resides outside of Raleigh, North Carolina.
Partial client list: Budweiser, Continental Airlines, United Airlines, Proctor & Gamble, Pepsi, Coca-Cola, Nabisco, Neutrogena, Rolling Rock Beer, Rockwell International, McDonnell Douglas, McDonalds, Mattel, USA Today, Turner Broadcasting System, Automobile Magazine, American Legion Magazine Airforce Magazine, American Helicopter Pilots Association Magazine, Texaco, Paramount Theme Park, Featured Cover Artist and contributing editor for Airbrush Magazine.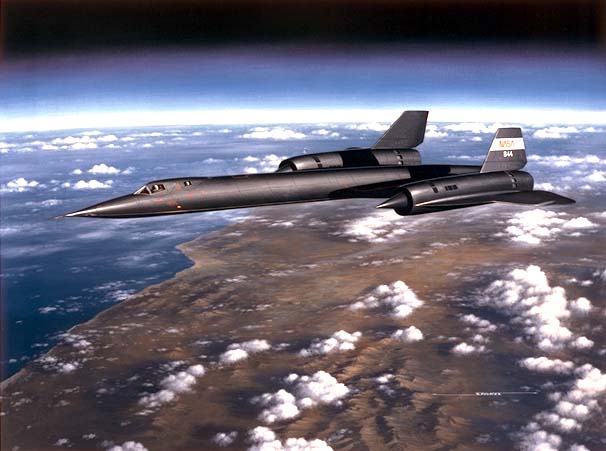 SR-71 Artwork by Stan Stokes
This work of art is public domain and may be used with credit to NASA.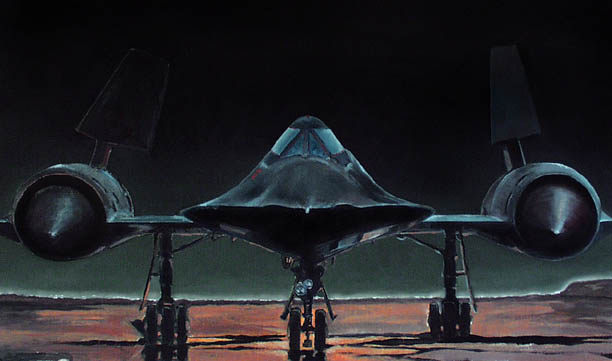 "SR-71 Blackbird"
Neil Hollingsworth painted this outstanding artwork of the SR-71 in oil and offered it for sale on eBay. It is one of a kind and he has granted permission to reproduce the image here on the SR-71 Artists webpage. The image here may not be reproduced in any format without his approval. This image is not public domain.
If you are interested in having Neil paint an oil of the Blackbird you may contact him at this email address: portraitsbykaren@hotmail.com


Page #37 of the SR-71 Blackbirds