The Early Days of the Blackbird and the 4200th SRW
With Recollections
The following images and recollections describe the very early days of the secret SR-71 Blackbird. Author, SR-71 Blackbirds appreciates the efforts of those that contributed to this page.
The 4200th Strategic Reconnaissance Wing was re-established at Beale AFB, California on January 1, 1965. In June of 1965, the 4200th was commanded by Colonel John A. Des Portes. In September of 1965, the 4200th was then commanded by Colonel Douglas T. Nelson. At this time Beale AFB did not have any SR-71's. Flight Crews and maintenance technicians were receiving hands-on experience with the new aircraft as they were being assembled at the Lockheed Plant in Palmdale, California. Lockheed test pilots, Robert Gilliland (the first person to fly an SR-71) and Jim Weaver flew each aircraft as they were accepted by the U.S. Air Force. On June 25, 1966, the 4200th became officially the 9th Strategic Reconnaissance Squadron. The first SR-71 to arrive at Beale AFB on January 11, 1966 was a dual cockpit trainer model designated the "B" model. The tail number was #957 and the Crew Chief was TSgt Gene Patrick with SSgt Willard Smith as his assistant Crew Chief.
CMSgt Bill Reynolds provides more information for this time frame:
The second SR-71 to arrive at Beale was #978. This aircraft had major fuel leakage and spent three months as a "Hanger Queen" while Fuel Specialist attempted to seal the tanks.
The first 9th Organizational Maintenance Squadron Commander was Colonel Radin. His troops were called "Radin Raiders". The Maintenance Officer was Captain Jeffens with Larry Durga as the Maintenance Superintendent. A. J. Smith was the Maintenance Superintendent for OMS; Clyde Turner was in charge of the Support Branch (Aerospace Ground Equipment-AGE)
CMSgt Davis was the first 9th Maintenance Superintendent. He assigned various personnel to squadron positions and thus assigned CMSgt William M. Gornik as NCOIC of the Support Branch. However, Chief Gornik found out that he outranked Chief Davis who had assigned him the less illustrious job. Chief Gornik took the helm as 9th Maintenance Superintendent. The rest is history. Chief Gornik set a precedence of camaraderie within the 9th that few enlisted men could match today. On April 27, 2002, Chief Gornik was inducted into the Blackbird Laurels; an elite fraternity shared by CIA pilots and Kelly Johnson to name a few. He accepted the award on behalf of all the enlisted people that had been assigned to the Blackbirds. Bill Gornik's book "U OUGHTA" tells the whole story.
In the early days of the Program, Crew Chief Link Spangler held a less dubious honor. He was the Crew Chief on two different SR-71's that crashed. #957 and #977 were both lost to accidents. The SR-71B, #957 was lost on approach to Beale on 11 January 1968. Loss of both generators and subsequent loss of fuel resulted in a double flame out just seven miles from the end of the runway at Beale. SR-71A, #977 ended its career in flames by skidding 1000 feet off the end of runway 14 at Beale on 10 October 1968. The takeoff was aborted when the left brake assembly failed with pieces puncturing the fuel cells. All six tires blew and fire resulted. Crew Chief Spangler and his duties did not contribute to the causes of the crashes as the accident investigation boards determined. I do believe, (as an ex-SR71 Crew Chief), I would have been looking for a new job if I had been in Link's position.

In another near disaster, Fuels Specialist, Eldon Rohm had entered a fuel tank to do repairs. He was shortly overcome by JP-7 fumes and passed out within the fuel tank. Alert personnel nearby was able to rescue and revive him.

The tolerances on many of the machined parts was so close that up to 17,000 pounds per square inch of pressure was required to lubricate the fittings.
TSgt Carmon Dwain Allen is shown here in the very early days of the SR-71 program. Sgt. Allen was a Blackbird Crew Chief on tail #962. He is wearing the 4200th hat denoting the short lived 4200th Squadron that later became the famous 9th SRW. He was one of the first Crew Chiefs assigned to a Blackbird. The first Squadron Commander, Colonel Douglas T. Nelson is shown here. He autographed this photo and commended TSgt Allen for his dedication and fine work while assigned to the Blackbirds. (Photo courtesy Dwain Allen)
Quote from TSgt Allen: The one of Col Nelson and myself was taken at Palmdale when we were getting ready to bring #962 to Beale. That is #962 in the photo, and Col. Nelson flew it to Beale. Editors Note: The black circle on Allen's left pocket is a dosimeter that detects radioactive exposure.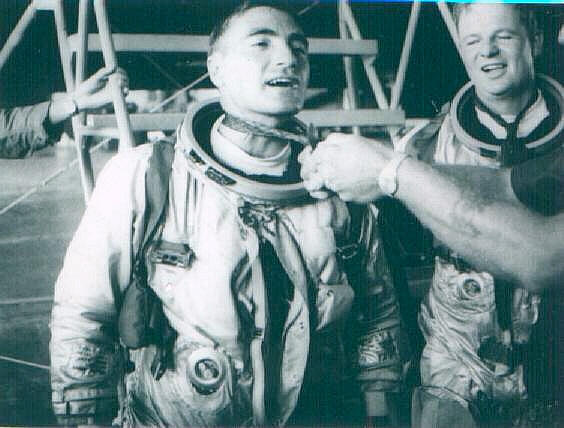 This photo shows Major Franklin D. Shelton, Pilot, at Kadena AB, Okinawa after his first OL-8 Operational Mission over Vietnam. TSgt Dwain Allen is cutting the tie (required attire) after completing the mission. Looking on is his Reconnaissance System Operator "RSO", Lawrence L. Boggess who is next in line for the tie cutting ceremony. (Photo courtesy Dwain Allen)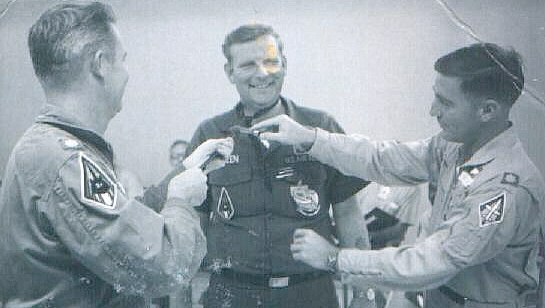 Here Major Franklin D. Shelton makes the payback to Dwain Allen, cutting off his tie. Notice that it takes two officers to perform the surgery. (Photo courtesy Dwain Allen)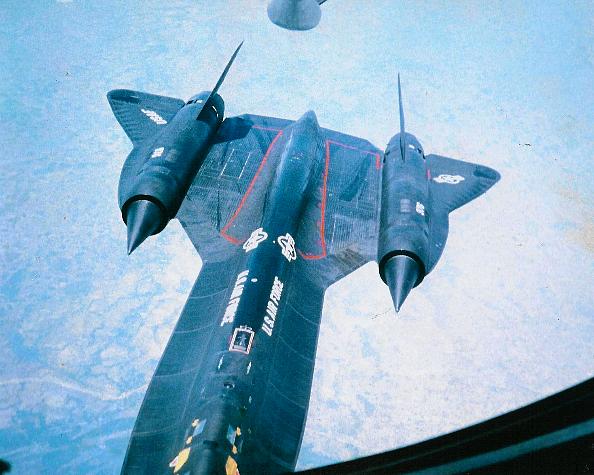 First Operational Sortie refuel over Southeast Asia, SR-71 #976
(Photo submitted by Ron Girard)
From: Dwain Allen [habu@midsouth.rr.com]
Sent: Saturday, March 17, 2001 12:30 PM
To: Ronald J. De Lozier
Subject: Re: Memory
Ron, Yes we painted the bunny on #978. All three of the paintings happened around the same time. I can't remember for sure which one was first. I believe we did #974 then #978 with the help of the guys in the paint shop. We got the stencils made and I remember we did #978 in the early morning hours before the brass came to work. I remember we thought they would raise hell and it would be taken off before it ever flew but everyone went along with it; the crews really liked it. I think that is what saved our butt. As you know when they stopped everyone from doing the painting, the original three got to stay on. I have a Polaroid picture of me pointing to the bunny right after we painted it. I'm still looking for it. It's here somewhere. I'm sending you some pictures I'll send a couple at a time . These are one of a kind pictures.
The ones of the Goony Bird on the landing door is a story in its self. Tony Bevacqua, Pilot and James Kogler, RSO were in #974 and they lost a generator. They landed on Midway Island, so we jumped on a KC-135 to go get it. We changed the generator and had it "OR", in no time. Well, we were stuck there for 4 days, weather and then tanker scheduling. Bevacqua and Kogler had met this Navy officer and his wife at the club. She was an artist and they brought her out to the ramp and she spent about 4 hours painting the Gooney Birds on both landing gear doors. We got the all clear to launch and the runway was so short that we had to back the bird all the way back onto the overrun to launch it. Then we barely got off the runway with the tanker. The Gooney Bird wasn't painted in heat resistant paint so it was painted over after we got back to Kadena. There are two photos of #974. I'm sending you both taken on Midway. The one of Col Nelson and myself was taken at Palmdale, when we were getting ready to bring #962 to Beale. That is #962 in the photo, and Col Nelson flew it to Beale. The black and white photo is me launching #978 from Beale. The ones of me cutting off Major Shelton and his RSO's tie then they cut off mine is taken after their first hard mission at Kadena and #978's first "hard" mission.
Dwain
TSgt Carmon Dwain Allen preparing to launch SR-71 #978 at Beale AFB, Ca.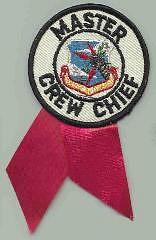 The 4200th SRW was established on January 1, 1965. Commanded by Colonel Douglas T. Nelson, he selected only the finest Crew Chiefs in the Air Force inventory to Crew the all new SR-71 Blackbirds. The following USAF photo depicts these Crew Chiefs in late 1967 prior to the first Kadena, Okinawa OL-8 Operations.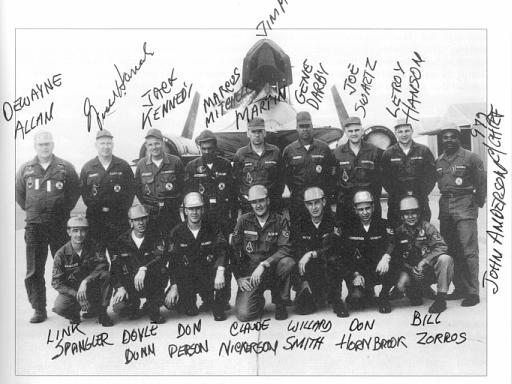 Original Crew Chiefs not pictured: Gene Patrick (17956), Bill Bell (17961), Don Carey (17959), Duane Rentz (17964), C. F. "Chuck" Carter (17965), Charlie Bell (17974), Bob Chatterly (17963). Pictured with an "*" were among the second group of Crew Chiefs picked for the program.
Back Row:Dwain Allen (17962/17978), Gene Harrah (17970),Jack Kennedy (17958),Marcus Mitchell (17972),Jim Martin (17974),Eugene Darby (17966),Joe Schwartz (17968),*Leroy Hansen (17959),John Anderson (17973).
Front Row:Calvin "Link" Spangler (17957/17977),*Doyle Dunn, Don Person (17969),*Claude "Nick" Nickerson (17956),Willard Smith (17981),*Don Hornbrook, Tony "Bill" Zorros (17979).
---
An Email received from MSgt Don Person , Crew Chief #969 shown in the photo above follows:

Fri, 26 Jun 1998 13:11 MSgt Don Person (Retired) Writes: I was the first crew chief on #969 and watched
production at Burbank and then to Palmdale before it flew up to Beale in late 1969. I was on the Habu SR-71
program 1966 to 1970 as a crew chief and then quality control inspector. Was nice to see Carmon Allen's response as we were both original crew chiefs. The first aircraft I worked on was #960 with Bill Bell before going to Burbank to follow #969 thru production. I keep in touch with CMS (Ret) Bill Gornik and several other Habu's and have attended several reunions in Reno. One story I remember is the day I returned from Palmdale and before going home, base housing, I stopped by the NCO club as all crew chiefs would be there for a cold one. I made a mistake and wore a tie. Bill Gornik spotted me and before I knew it he had cut it off just below the knot. At the time I was really mad as it was a Christmas gift from my wife Fran. Just so happened this was the very first tie on the "Fakawee" flag pole. On 2 April 1969 Bill cut another tie, Senator Barry Goldwater as the Senator had just completed a Mach-3 orientation flight flown by Major John Storrie (M/Gen ret). Since retirement in 1976 I joined McDonnell Douglas, now Boeing as a field service representative and spent time in St. Louis, Cold lake Canada, Baden Baden West Germany, Zaragosa Spain and now I am in New Orleans as the Boeing representative at the Naval/Marine Reserve Headquarters as the F/A-18 advisor to the admirals staff.

Don Person, MSgt USAF (Ret)

E-Mail: person@cnrf.nola.navy.mil
A current entry from Don Person Follows:
Fri, 13 Apr 2001 08:06 Mr Donald Person Writes: Leland, another great SR-71 site. Dwain Allen gave you some great pictures. I had forgot about the landing at Midway and Dwain's pictures refreshed my memory. I also knew Gen Doug Nelson and have several stories. In 1964 I was stationed at Walker AFB Roswell NM in Base Flight on T-33's. Col Nelson was a good friend of our Wing Commander, Col Hoban and having to launch our T-33; supporting the Wing & Division Hqs I became friendly with the staffs. One night I had a call to go to Col Hobans house immediately. It turned out that Col Nelson was visiting Walker AFB and looking for the right individuals for a future classified assignment. I had just been accepted for the Thunderbirds, but the challenge of the unknown grabbed me and I accepted his offer. It was several months before I saw a small picture in the Air Force Times of a new recon aircraft and I put two and two together. I still have the picture. The next is all history arriving in Beale May 1965. Was selected as the 12th crew chief # 969 and went to Burbank to follow her in through final assembly. Followed it to Palmdale where nose radome, outer wings and etc were installed. Fuel system was serviced, systems checked and calibrated and first flight . Returned to Beale for arrival of # 969. # 969 had numerous major fuel tank leaks in the #1 cell. It spent the next three months being towed in and out of the fuel repair hangar. It was such a hangar queen that one morning I came in and someone had attached a small plastic lemon to the pitot boom. We all got a big laugh. In fact # 969 was selected to be photographed for the front cover of the Beale AFB welcome booklet. The picture I sent to David Allison in www.habu.org is the same picture. Picture was taken on one of the occasions we had her outside. It was towed up between the B-52's and KC-135's in the 456th parking ramp area. After three months it was ready for its first local flight. Col Nelson was selected to fly her. Everything went normal during launch, but when I disconnected from ground intercom and turned around I noticed a group of our crew chiefs and maintenance troops were lined up on the flight line outside the shelter. # 969 taxied out and made the left turn. They all came to attention and saluted. By the way the series of pictures taken for her first launch are in the 4200th/9th history books. # 969 returned from flight with no write-ups.
Another great story. Early on not sure what date or year but suspect 1966 or 1967 we had a great picnic with Kelly Johnson in attendance. All of the original crew chief wives were called onto a makeshift stage including my wife Fran. Kelly Johnson presented each of them with a small ruby eyed "Skunk" pin. Fran still has hers and extremely proud of it. I have so many great memories and your latest site refreshed it. Have a great week.
Mr Donald Person
Email: PERSON@CNRF.NOLA.NAVY.MIL
---
An Email received from Marcus Mitchell, Crew Chief #971 shown in the photo above follows:

Sat, 28 Oct 2000 21:07 TSgt Marcus Mitchell Ret, USAF Writes: Having served in the United Stated Air Force for 17 Years, 6 months, I was a member of the 4200 Strategic Reconnaissance Wing. I was the 13th original Chief in this Wing which later became the 9th Strategic Reconnaissance Wing. I received Aircraft #61-7971 from the
Lockheed Factory. I made the Air Force Acceptance Inspection on it. The Aircraft only had 14 flying hrs. logged in its records. In 1968 I prepared it to go back to the factory for IRAN it had 250:00 Flying hours logged in the 781 Aircraft Records. I launched #971 nine times in succession and it landed after each mission with OK Flights written up in the 781A. That was a record that no other Chief matched while I was in the organization. I was nominated for the Master Chief Award and received it. I can prove it, but because I was Black all other Chiefs received the same Award without having the same record documented. I retired from the USAF on June 01,1970. I was in the organization 1 year before we received the first Aircraft which was #61-7956B. I would like to locate CMSgt A. J. Smith

From: TSgt Marcus Mitchell Ret, USAF
Email: aspen38@midwest.net
---
Note: Information accuracy provided by Don Person, Dwain Allen and Ron De Lozier
(It has been 30 years since events took place. If you are aware of any corrections that need to be made to the SR-71 Blackbirds website contact me: Leland Haynes, Webmaster, SR-71 Blackbirds, Email: sr71webmaster@sr71.us

SR-71 #981 was a hybrid trainer aircraft (SR-71C) from salvaged parts of YF-12A, 60-6934 (rear half) and functional engineering mockup of the SR-71A forward fuselage. The plane was a major fuel leak due to the mockup portion never being sealed when manufactured. Just the same it flew as a trainer aircraft at Beale AFB. Shown here in 1969 is Crew Chief Claude Nickerson (Top Rt) and Lockheed Tech Rep Bill Brown (Top Lt). The plane was known as "The Bastard".
Dining Facility at Barksdale AFB on an SR-71 Recovery Mission in November of 1981. Chief Campbell on the right. Lieutenant on the left is unidentified (enhanced image shows the last three letters "zen" on his nametag. Branzen maybe).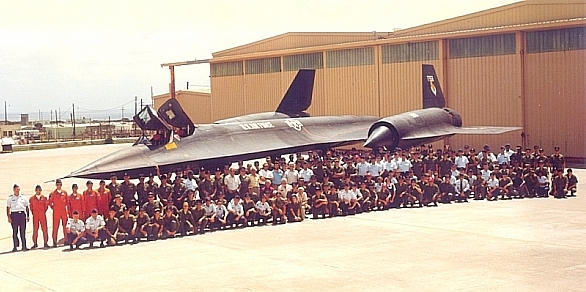 This group Det 1 photo was taken at Kadena AB, Okinawa in June of 1981. The SR-71 is tail number #958. If you think you are in this photo, there are three enhanced close-ups of the troops from the front of the aircraft to the rear.
KAB#1
KAB#2
KAB#3
---
TSgt Chuck Dodgins Photos of the Early Days at OL-8, Kadena
Assistant Crew Chief to Patrick and Smith on #956 1966
Crew Chief #958 @ Beale
Crew Chief #980 OL-8 (second rotation)
Email: cwdodgins@netsignia.net
Click on Image to Enlarge

dodgins001.jpg
49.40 Kb
1st SR-71 Arrives at Beale AFB, 1965

dodgins002.jpg
64.83 Kb
1st SR-71 Arrives at Beale AFB, 1965 Crew: Nelson and Haupt. I became assistant Crew Chief for training purposes. My main purpose in life was to service the CSD's over and over again (Dodgins).

dodgins003.jpg
48.01 Kb
TSgt Chuck Dodgins after launch of #980

dodgins004.jpg
54.42 Kb
Lt to Rt, Maj's Hudson and Budzinski boarding 962 during Col Minters reign as crew chief. SSgt Countryman in the background

dodgins005.jpg
49.66 Kb
Lt to Rt: Unk, Maj. Hudson, Maj. Buddy Brown

dodgins006.jpg
31.42 Kb
Colonel Minter: Crew chief for a Day at OL-8, August 1969

dodgins007.jpg
38.21 Kb
Buddy Brown wearing TSgt Dodgins uniform and Col. Minter wearing SSgt uniform -- during Crew Chief for a day at OL-8

dodgins008.jpg
49.34 Kb
Col Minter ready for the launch process

dodgins009.jpg
47.22 Kb
OL-8 gang watching the Col launch SSgt Countryman's jet

dodgins010.jpg
36.29 Kb
Left to right, Bledsoe (959), Dodgins (958), Nickerson (? and then 981 C-Model), Spangler (957 before crash)

dodgins011.jpg
33.44 Kb
House girls cleaning OL-8 T-hanger halls
Page #172 of the "SR-71 Blackbirds"