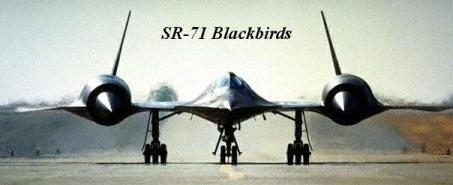 New York to London SR-71 Speed Run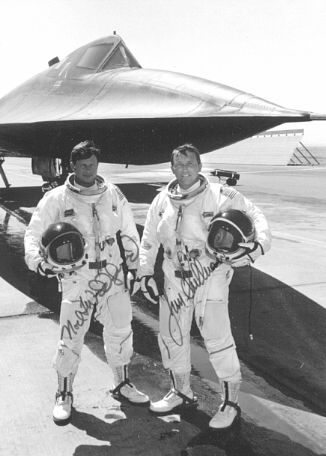 On September 1, 1974 Major James V. Sullivan, 37 (pilot) and Noel F. Widdifield, 33 (reconnaissance systems officer) (photo inset), flashed across the starting line (radar gates in New York) at approximately 80,000 feet and speed in excess of 2,000 miles per hour. Exactly 1 hour 54 minutes and 56.4 seconds later, they had set a new world speed record from New York to London England. The average speed was 1,807 statute mph over the 3,461 statute mile course, slowing to refuel one time from a specially modified KC-135 refueling tanker. The aircraft was placed on static display at Farnborough Air Show for 1 week. It marked the first time the secret plane had been on public display outside of the United States.

Clarence L. "Kelly" Johnson (photo inset), the aircrafts designer, was on hand for the event. He remarked, "It (the SR-71) has exceeded all my expectations."
Another historic speed record was set on the return trip to the United States. Capt Harold B. Adams, 31 (pilot), and Major William Machorek, 32 (reconnaissance systems operator), set a speed record from London to Los Angeles. They returned the Blackbird 5,447 statute miles in 3 hours 47 minutes and 39 seconds for an average speed of 1,435 miles per hour. The difference in the two speed records was due to refueling requirements and having to slow over major US cities. Even so a large number of people in Los Angeles reported broken windows due to the sonic boom.
New York to London Pilot/RSO on the left; London to Los Angeles Pilot/RSO on the right
Record Setting Route Map for both flights

Detailed Crew Maps of the Flight Routes:
There are two detailed SR-71 Crew Maps of the Record Setting Flight Routes from Beale AFB, California to Farnborough, England and the return flight to Los Angeles. These maps show departure times, elapsed times over the routes and where refueling took place. They show the Start of acceleration to Mach 3+ speed (2100 MPH) and Deceleration to slow down for refueling with the KC-135Q Tanker. Map 1 shows the Continental United States. Map 2 shows the Atlantic and England. SR-71 9th Operations Planners looked at over 50 flight routes with the goal of setting the record in less than two hours. This is the one selected and flown. These images are in 640X480 Resolution.
If you wish to view these maps click on the links below:

Major's James Sullivan and Noel Widdifield exiting SR-71A #972 at Farnborough, England after setting a new World Trans-Atlantic Speed Record New York to London.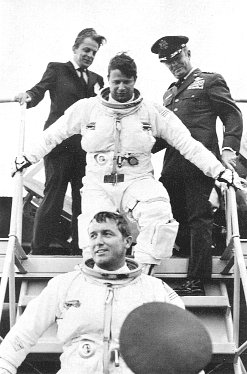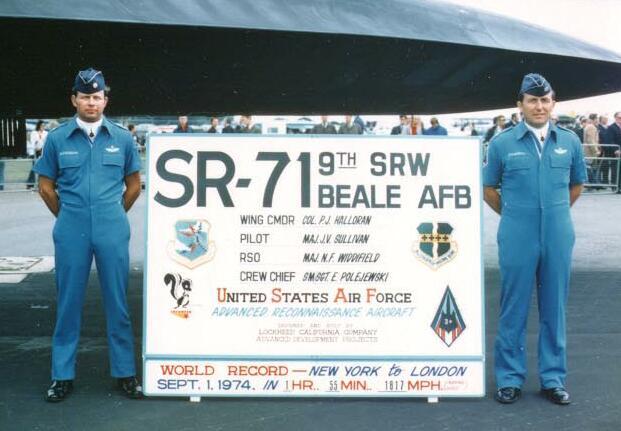 SR-71 Flight Crew, Sullivan & Widdifield-New York to London

Two Official Certificates:
Click here to view the Certificate of Official Speed Record Presented to Major James V. Sullivan, USAF by the Federation Aeronautique Internationale, September 01, 1974 Verifying New York to London Speed Record.
and this certificate:
National Aeronautic Association Certificate Presented to Major James V. Sullivan, USAF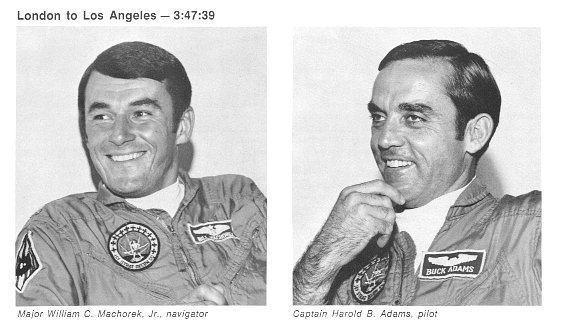 SR-71 Flight Crew, Adams & Machorek
London to Los Angeles
On Sept. 13, 1974, Capt. Harold B. (Buck) Adams, Pilot, with Maj. Williams C. Machorek, Reconnaissance
Systems Operator, flew the SR-71 Blackbird across seven time zones from London to Los Angeles in a race
with the sun. The 3 hour, 47 minute and 39 second flight established a record over the 5,447 statute mile route but an added aerial refueling over the longer distance produced a slower ground speed of 1,435 mph. The aircraft arrived (by California time) almost four hours before its London-time departure. For their record-setting flights, the pilots received the De La Vaulx medal given by Federation Aeronautique Internationale. The medal is awarded to individuals for establishing absolute world records for highest performance without regard to size of aircraft or power plant.
Go to this web page for complete information and photos of the London to LA Record Flight:
http://www.wvi.com/~sr71webmaster/la001.html

Pilot Officers and Ground Crew Members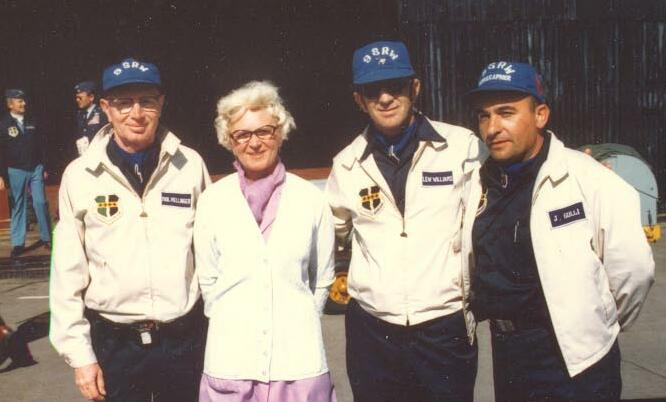 Lockheed ADP Technical Representatives with Hostess
Left to right is Paul Mellinger, Chalet Hostess, Lew Williams, Joe Gulli

"Tribute to Kelly Johnson by the 9th SRW"

Lockheed Photo taken at the Post House in Farnborough England, September 1974. Personnel include Paul Mellinger, Lockheed ADP Rep (far left); in the center seated is an unknown English aviation author. Standing in the back on the left is SMSgt Polejewski, SR-71 Maintenance Line Chief. Center standing is CMSgt Reynolds, NCOIC Maintenance Superintendent for the Speed Run. Standing far right is A1C Craig Meredith, OMS. Others include 9th Avionics and OMS personnel.
---
New York to London Speed Run Clarification
There has been minor discrepancies both in SR-71 publications and in data appearing on photos (to include the Lockheed photos on this web page) pertaining to the actual miles flown and the actual speed over the closed course. Major Jim Sullivan's certificate issued by the Federation Aeronautique International (FAI, the governing body of aviation world records) reflects accurately the speed of 2,908.016 Kilometers Per Hour. Therefore:
One statute mile = 1.609344 km.
Therefore, 2908.016km/hr = 1806.957368 statute mi/hr.
1hr 54m 56.4s = 1.915666666hr.
Rate times time = distance = 3,461.528 statute miles
The correct New York to London Speed Run Data is:
Time Flown: 1hour, 54min, 56.4sec
Distance Flown: 3,461.528 statute miles
Speed Flown: 1,806.957368 statute mi/hr.
The correct London to Los Angeles Speed Run Data is:
Time Flown: 3hour, 47min, 39sec
Distance Flown: 5,446.87 statute miles
Speed Flown: 1,435.59 statute mi/hr.
---

View 32 Photos taken at Farnborough Airshow in 1974

Questions and Thoughts on the SR-71 Blackbird

Deactivation of the SR-71. Beale AFB Air Fest 1997

Ten Videos of the SR-71 that can be downloaded
Copyright

1996 Leland R. Haynes (MSgt USAF, Ret) All rights reserved. Original publish date April 15,1996. Revised March 29, 2004
Credits: Pilots lead-in photo is copyrighted property of the author. Tribute to Kelly Johnson is copyrighted material of Paul Mellinger, Lockheed ADP, Retired (may not be reproduced in any format). Almost all photos used on this web page are the copyrighted material of Lockheed Martin Corporation (may not be reproduced in any format). Profound Credit is given to Lockheed Photographer, Joe Gulli. Without his expertise in documenting these Historic Flights and the Farnborough events, this website and photos would not exist. Thanks Joe for your dedication and commitment to the Lockheed SR-71 program.
Copyright Exceptions:
Students of Aeronautical Study (All Educational Levels) may use any and all material on the "SR-71 Blackbirds" WebPages to further their educational aims. However, copyrighted material may not be used on any WebPages or books without express consent of the author or originating copyright holder.
Page #2 of
The SR-71 Blackbirds